The Financial Times reviewed a letter, written by Ivory Coast and Ghana, think of both as cocoa's OPEC, control about two-thirds of the world's cocoa trade, outlined how both countries were angered by the blatant attempt of top chocolate companies and traders including Mars, Hershey, and Olam in their attempts to circumvent a premium on cocoa meant to help combat poverty among African farmers. 
The letter said chocolate producers attempted to avoid a $400-per-ton "living income differential" (LID), which is a tax added to the price of cocoa bought from Ghana and the Ivory Coast. In addition to the major industry players, the letter calls out four other smaller cocoa traders.
In a separate letter, Ivorian Conseil de Café Cacao and the Ghana Cocoa Board blasted Hershey for their attempt to bypass the LID, calling their alleged strategies a "breach of faith." Authorities halted Hershey from operating its chocolate sustainability programs in both countries. 
On Hershey's website, here is what they say about their chocolate sustainability program in Africa: 
"At Hershey, we envision a world where cocoa farmers and their families are able to live healthy, prosperous lives; where cocoa communities and ecosystems thrive for generations to come." 
More or less, Hershey's virtue signaling was merely all for optics as we noted last week when the Pennsylvania company ditched both countries in pursuit for cocoa by making massive purchases on ICE Futures US exchange instead.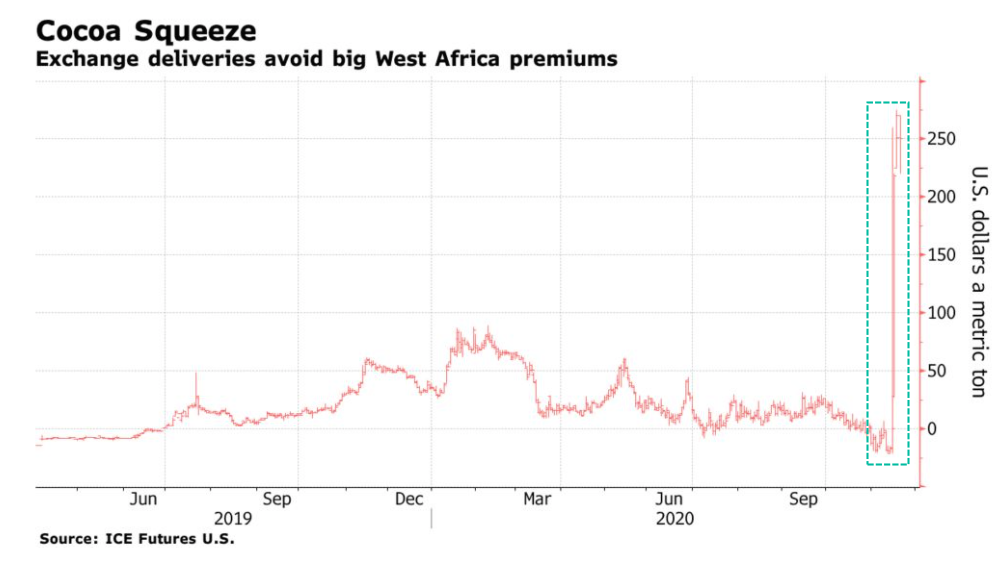 FT does note the letters' authenticity was confirmed by two industry insiders. 
Mars responded to the letter and told FT that it "categorically" denied the accusations.
"We were the first major manufacturer to support the LID. In addition . . . this year we have invested more in Côte d'Ivoire and Ghana sustainability programs," Mars added.
Hersey also responded, indicating the letter was misleading" and was "unfortunate" – also saying they're participating in the LID for the current crop year and would continue to do so in the future. They also said discussions with Ivory Coast and Ghana to continue "the sustainability programs that are benefiting cocoa farmers today."
Gerard Manley, head of cocoa trading at Olam, said Ivory Coast and Ghana were "important" to the company and the industry as a whole.  
"We appreciate that both countries understand Olam's significant investment in people and infrastructure, and we reiterate our strong support of farmers and growing farmer income," Manley said.
The $400-per-ton LID was announced last year as a way to lift cocoa farmers out of poverty.
The apparent cocoa-standoff between Ivory Coast and Ghana and commodity traders comes as Cocoa prices have tumbled this year (see: here & here) as chocolate demand plunges due to the virus pandemic.