By Tyler Durden
A solid recovery in the hotel industry is years away as travel and tourism will likely remain suppressed well into 2021 as cities across the US have reinstated some form of coronavirus restrictions to mitigate the spread.
As COVID-19 infections, hospitalizations, and deaths soar, along with a new mutation of the virus spreading in Europe, Americans continue to shun hotels.
According to STR, Inc, a hotel industry market data firm, the US hotel occupancy rate plunged 26.4% to 36.8% during the week of 13 to 19 December, compared over the same period in 2019.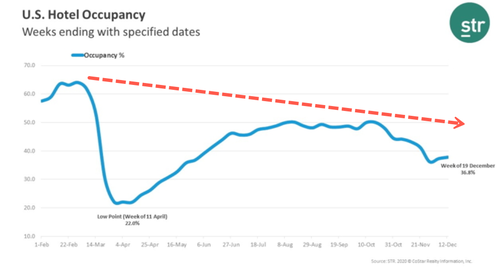 STR said the average daily rate (ADR) dropped 21.9% to $85.50 over the week. Revenue per available room (RevPAR) was at $31.45, down 41.5%.
For the first time on record, the industry had one billion unsold room nights as Americans stayed home and or travelers avoided hotels.
STR's data for Top 25 US markets had lower occupancy (34.9%) than the national average but higher ADR ($90) than all other markets.
Tampa/St. Petersburg, Florida recorded the highest occupancy level (45.4%), while Oahu Island, Hawaii (21.6%), and Minneapolis/St. Paul, Minnesota-Wisconsin (23.9%) saw the lowest.
These worrisome stats are closely watched metrics for gauging hotel health and are sounding alarm bells regarding the health of some hotel operators.
Readers may recall we've outlined the epicenter of the hotel implosion, that is, New York City.
Given the uninspiring rebound in national occupancy rates for mid-December, S&P Global Ratings warned in a report last month that the hotel industry's recovery may not occur until 2023.
With that being said, Best Western CEO David Kong recently told CNN that "If we don't get a vaccine soon and business doesn't return, it's going to get much worse."
Some two million hotel-related jobs have been lost, and about 25% of hotels are at risk of foreclosure.
Commercial-real estate experts at Trepp outlined last week that the overall credit performance of commercial real estate loans tied to hotels continues to show "pandemic related stress."
Even though hotels remain under tremendous pressure, stimulus and vaccine hopes have backstopped BBB-tranche of the CMBX Series 9 index (overly exposed to malls and hotels) from falling lower.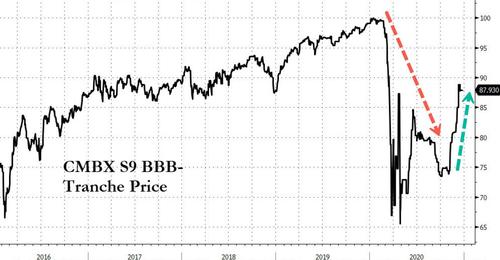 If national occupancy rates don't rise soon, expect a wave of consolidation and bankruptcies sometime in 2021 across the industry.
Source: Zero Hedge
Image: Pixabay
Subscribe to Activist Post for truth, peace, and freedom news. Send resources to the front lines of peace and freedom HERE! Follow us on SoMee, HIVE, Parler, Flote, Minds, MeWe, Twitter and Gab.
Provide, Protect and Profit from what's coming! Get a free issue of Counter Markets today.