Authored by Ted Dabrowski via Wirepoints.org,
Want to save more Illinoisans from COVID? Vaccinate the elderly first.
For months, Gov. J.B. Pritzker has used lockdowns as his main way to handle the COVID pandemic, ignoring calls for him to focus on the elderly instead. The governor's approach has been a major policy failure, resulting in far too much tragedy. Nearly 90 percent of the state's 18,000 COVID victims were over the age of 60, with nearly 50 percent of all COVID deaths tied to long-term care facilities.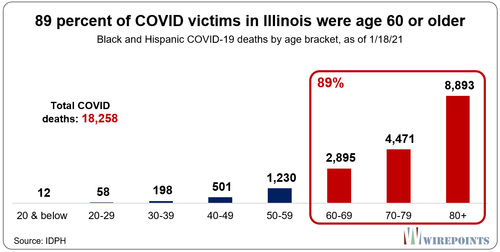 Now that vaccines are finally available, Pritzker is repeating the same mistake again. Rather than make the elderly and the frontline staff that take care of them his number one priority for vaccinations, the governor is including a host of "essential workers" – and prisoners, even – at the same level of priority. He's calling it an "equity-centric vaccination approach."
It's a huge mistake to give all those groups equal priority. Unless they happen to be elderly, every vaccine given to the 1.3 million "essential" workers will be one that can't be given to one of the 1.9 million Illinoisans over age 65 – the group by far most at risk from dying.
Pritzker's inoculation approach is similar to those used in other states, where other factors like occupation only add more bureaucratic rules that slow the vaccination process down. In New York, that's led to doses going to waste or sitting idly on shelves. Overall delays have been so significant across the nation that the Wall Street Journal reported last week "only 9.3 million of the 27.7 million vaccine doses that have been shipped to states have been administered."
The vaccination process shouldn't be that complicated. Illinois state officials have known for months who should be first in line: the elderly. The simplest and most effective way to save lives is to administer the vaccine based on age: the older or more infirm the person, the more priority they should receive. After all, the state's case fatality rate for Illinoisans in their 70s is 65 times higher than for those in their 30s (7.47% vs 0.115%).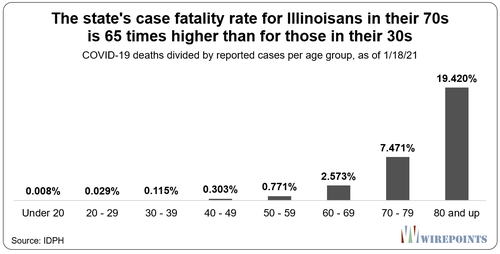 For sure, if a teacher, a cashier or a prisoner is elderly, give them the vaccine. Or if they have a serious pre-existing condition – diabetes or obesity, for example – vaccinate them. But overall, Illinoisans in nursing homes, their caregivers and other key frontline workers, people with severe pre-existing conditions, and all residents over 65 should all take first priority in getting vaccinated. 
(To get the full story on Illinois' vaccine rollout, read The Pantagraph's "Can Illinois pick up the pace of vaccinations as it moves to the next phase?")
Illinois' flawed rollout
Illinois is still in Phase 1A, the initial vaccination rollout that includes inoculating frontline healthcare workers as well as residents of long-term care facilities. As of Jan. 14, the state ranked 19th in the country for percentage of doses administered. Overall, the state has administered 403,000 of the 958,000 doses (42 percent) already distributed to Illinois. And just over 105,500 Illinoisans, or 0.83 percent of all Illinosans, have been fully vaccinated as of Jan. 17.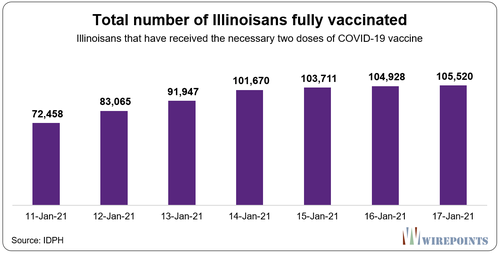 Phase 1B, which Pritzker has said Illinois will move to on January 25th, will finally authorize all seniors 65 and above, about 1.9 million people, to get the vaccine. The phase also prioritizes "essential workers," about 1.3 million people, and now prisoners, to receive the vaccine as well. 
Trying to distribute a limited number of vaccines among those millions of people will likely hurt Pritzker's goals for equity. Vaccinating all teachers, for example, would actually hurt the governor's goal because 82 percent of educators in Illinois are white – plus it would deprive the elderly of desperately needed vaccines.
In contrast, both elderly Hispanic and black Illinoisans suffer from far higher case fatality rates than white residents. Protect the elderly first and you necessarily protect minorities first, too. Nearly 80 percent of all minority COVID deaths have occurred in the 60-and-over age bracket.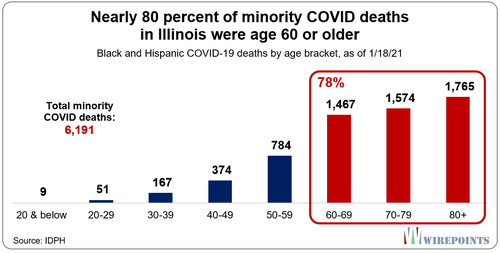 Of course, setting up vaccination centers as close as possible to the most impacted minority communities in Illinois is critical to making vaccination there a success.
No plan
The state's failure to prioritize vaccinations for the elderly can be represented by a simple anecdote of mine: My mother, an 81 year-old cancer survivor, continues to be frustrated by the vaccination process. She, like every other Illinoisan in her age range, should already be targeted for vaccination. But it's been impossible for her to find out any information about when or where a vaccine will be available for her.
She called her doctor's office and was told they had no information or timelines for when she could get vaccinated. She also called her hospital network and got the same answer: no info. I received the same response today when I called the hospital myself. My mother would have to wait anyway, I was told, because the hospital group hadn't yet finished vaccinating its own staff yet.
I hear similar stories from friends whose parents are in nursing homes. They are still waiting.
You'd think by now the state's health officials would be loath to fail Illinois' elderly again, but that seems to be exactly what they're doing.