Just when you thought nothing interesting was happening at airports anymore…
Two former airport workers are among six people who have been indicted for allegedly stealing more than $6 million worth of designer merchandise, including Gucci purses, jewelry and Chanel handbags, in what is being called a "series of heists" at JFK Airport.
Two truckers that formerly worked at JFK allegedly used inside knowledge of the airport's innerworkings to plan and coordinate the heists, according to NBC 4 New York.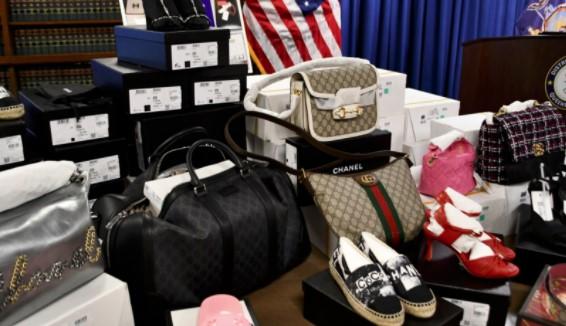 One trucker, 33-year-old David Lacarriere, allegedly used a forged document and airway bill at the receiving office for an air cargo importer to gain access to an incoming Prada shipment in January. His accomplice, 43-year-old Gary McArthur, helped him load four pallets of Prada merchandise – worth about $804,000 – onto a tractor trailer. From there, they simply drove off with the goods. 
The tractor trailer was found days later, empty and doused with bleach. 
The crew pulled a similar heist in May, where one person posed as a truck driver and another presented similarly forged documentation. During the May heist, the crew was able to walk away with five pallets of Chanel and Gucci items, worth more than $4.4 million. Similarly, that tractor trailer was also found days later, empty and doused with bleach.
By June, authorities had discovered the crew's stash house for its stolen goods at an abandoned beauty salon in Queens. While executing a search warrant on the premises, police were able to prevent the sale of $300,000 in stolen merchandise and recover more than 3,000 Gucci items and 1,000 Chanel items collectively worth about $2.5 million.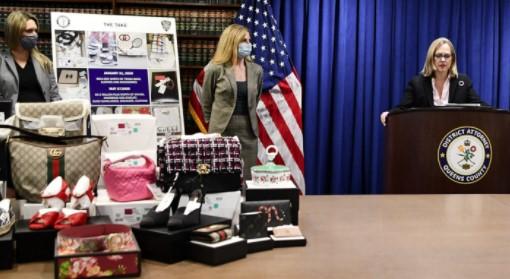 At the time the search warrant was executed, Lacarriere and McArthur were allegedly in the midst of selling nearly 120 items to 51 year old Alan Vu, who law enforcement observed loading products into his Mercedes SUV.
Four other men were arrested as part of the scheme and police are still pursuing two additional suspects. The men were charged in a 22 count indictment that includes grand larceny, conspiracy and criminal possession of stolen property. Lacarriere and McArthur both face 25 years in prison if convicted. Vu faces up to 15 years. 
Lacarriere's attorney told ABC: "We're anxious to see what the evidence is the people allege they have. They said a lot of things, but they haven't shown us anything yet."