It isn't the first time an ultra-long duration bond has been discussed by the Treasury, and it also certainly won't be the last time, but moments ago long end of the curve slumped, and the 5s30s steepened to session wides, after Janet Yellen said during her Senate confirmation hearing she'll look into the possibility of 50-year bonds.
Specifically, Yellen said: "There is an advantage to funding the debt, especially when interest rates are very low, by issuing long-term debt and I would be very pleased to look at this issue and examine what the market would be like for bonds of this maturity."
Treasury 30-year yields cheapened following the comment…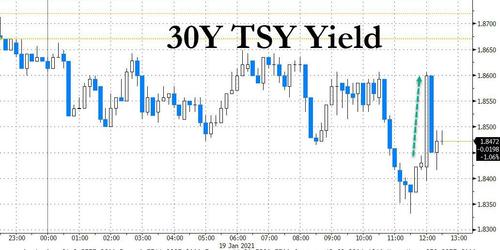 … briefly widening 5s30s curve to session high above 140bp.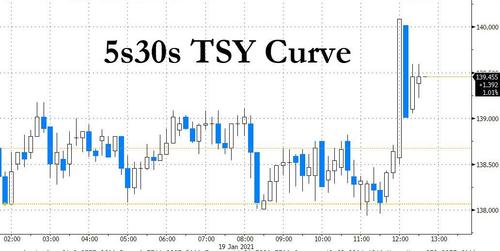 But the impact was most acute on long-duration brekevens, with the 30Y BE hitting session highs shortly after Yellen's comments…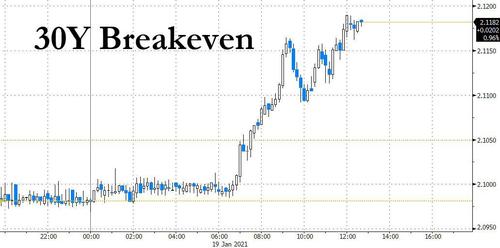 … in the process pushing the 30Y BE to breakout above a 16 year downtrend.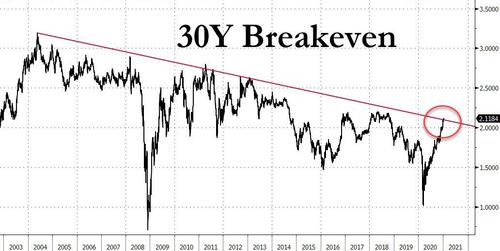 As Brean Capital's Russ Certo said, "Janet Yellen's willingness to even consider issuing ultra-long U.S. Treasuries was enough to drive traders to sell 30-year bonds on Tuesday" and while Yellen sounded "non-committal," her comments hit the back- end of the curve.
On the other hand, as noted above, this won't be the first time the Treasury has "looked closely" at 50Ys (or even 100Ys): several years ago Mnuchin did the same, and in the end decided that it's not worth the risk of unanchoring the long end, and instead he decided to relaunch the 20Y. We doubt this time will be different.