Remember what happened after the last inauguration? No, that isn't excited Trump "domestic terrorists"…
Peacekeeping During #Trump Inauguration Protests. Watch the full video at on YouTube at https://t.co/U2trXNTk0Q pic.twitter.com/mPHc5RWM8z

— Free Hugs Project (@FreeHugsProject) January 23, 2017
It appears the authorities are expecting a replay as throughout downtown Washington, DC, roadblocks, metal fences, and National Guard troops are in the process of locking down the area around the Capitol complex ahead of President-elect Joe Biden's inauguration on Jan. 20.
USA Today reports the "entire National Mall in Washington could be shut down, more than a dozen Metro train stations will be closed" next Wednesday.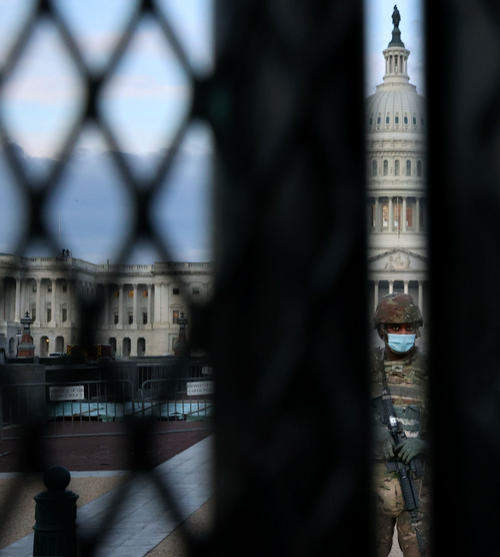 The nation's capital now has 20,000 Guardsmen deployed on and around Capitol grounds. 
The deployment of Guardsmen has been a continuing story since last weekend. On Sunday, 6,000 troops were expected to arrive in the metro area. One day later, on Monday, Politico's Lara Seligmandit reported that Gen. Hokanson, chief of the National Guard Bureau, said the US Department of Defense approved 15,000 troops. The number quickly rose Wednesday to 20,000 as the DoD began ushering in box trucks of assault rifles, ammo, and riot shields to troops as credible threats lingered.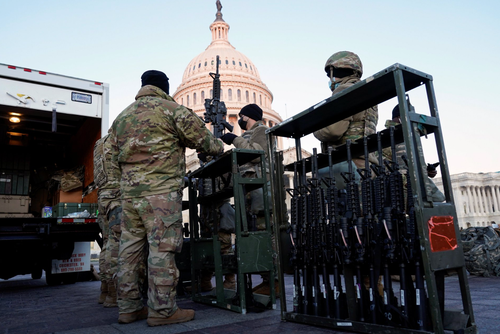 Politico reported yesterday that Guardsmen were briefed to prepare for extremists attacks, possibly using improvised explosive devices.
Politico obtained an unclassified intelligence document from the Secret Service that warned at least one right-wing extremist group, Patriot Actions for America, "is organizing and encouraging a violent demonstration" on Jan. 16 at or near Capitol grounds. '
University of Maryland historian Terry Bouton, who follows extremist organizations, said the federal government is preparing for more violence as many Trump supporters believe the election was stolen. 
"Some people were so angry, screaming with outrage, yet it all seemed so well-organized and orchestrated," Bouton said, referring to the Capitol raid by Trump supporters last week.

"If they are using similar kinds of tactics elsewhere, they are going rile up a lot of people who had no plan to engage in violence."
Robert Pape, a political science professor and director of the Chicago Project on Security and Threats at the University of Chicago, said the show of force via National Guard presence might deter violent activity next week.
Pape warned that the inauguration could be the beginning of the resistance movement… like 2017 was?
"All this might mean plan one is taken off the table, but it doesn't mean others are taken off the table," he said.

"Domestic terrorists have the money and access to materials for chemicals and other types of attacks. And they have time."
Just like the guy who blew up his RV in front of an AT&T switch building in Nashville a couple of weeks ago, which makes you think if more serious attacks are being planned for next week. 
For more clarity on the expanding lockdown of the nation's capital – here's a map of all the roadblocks – basically making it virtually impossible to navigate a vehicle around the Capitol or White House. 
DC Lockdown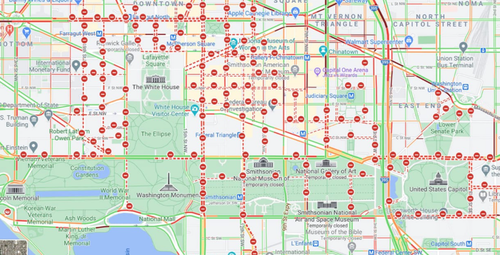 The heavy military presence around the Capitol.

Metal perimeter fence installed around Capitol grounds.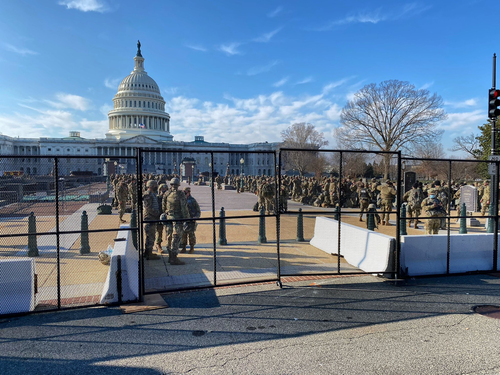 The area around the Capitol is locked down. 
High security around Capitol Hill, includes steel barricades and National Guard pic.twitter.com/HiErOUrIKx

— Jack Posobiec 🇺🇸 (@JackPosobiec) January 13, 2021
Concrete barriers and metal walls down the street from the Capitol.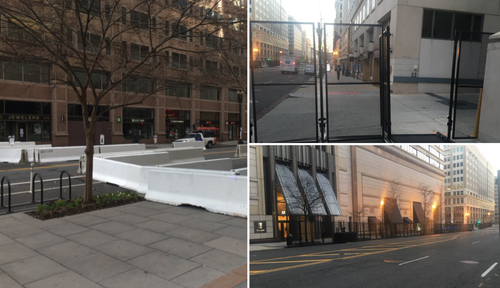 Plenty of roadblocks across the metro area.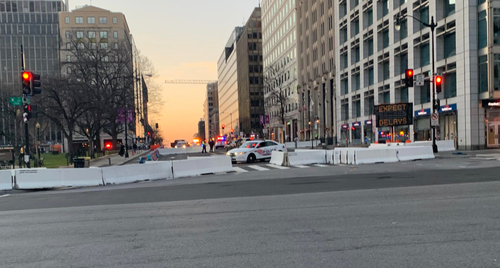 Meanwhile, Delta Air Lines, American, and United Airlines have prohibited passengers this week flying into DC area airports from checking guns or other weapons. However, United said active-duty troops could check weapons. 
We suspect tighter lockdowns could be coming in the coming days.