Global stocks added around $15 trillion in market cap in 2020 (pushing above $100 trillion for the first time ever)…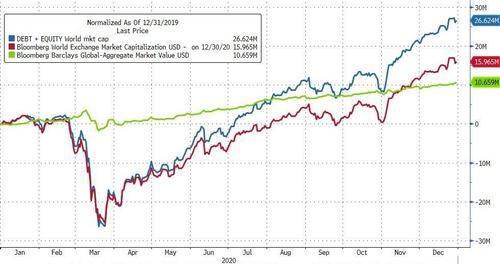 Source: Bloomberg
Which is an oddly coincidental number given that global liquidity has soared around $15 trillion in 2020…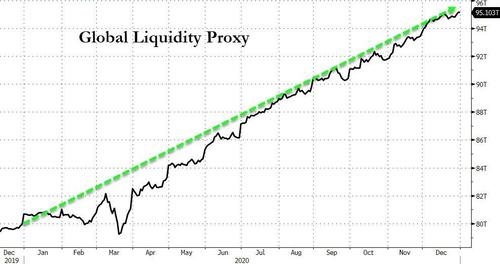 Source: Bloomberg
That kind of 'tsunami' hasn't historically ended well (in the movies)…
While much of the world grappled with soaring unemployment and plunging growth, Bloomberg notes that the 0.001% benefited from an unprecedented period for wealth creation. The world's 500 richest people added $1.8 trillion to their combined net worth in 2020 for a total of $7.6 trillion, according to the Bloomberg Billionaires Index. Equivalent to a 31% increase, it's the biggest annual gain in the eight-year history of the index and a $3 trillion jump from the market's nadir in March.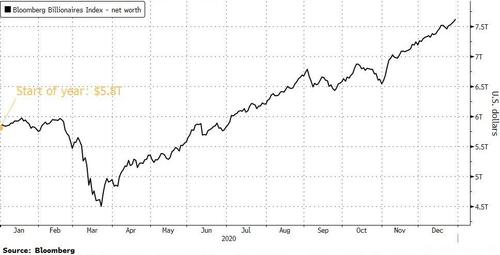 The dollar stands out in 2020 across asset classes but bonds and bullion outperformed…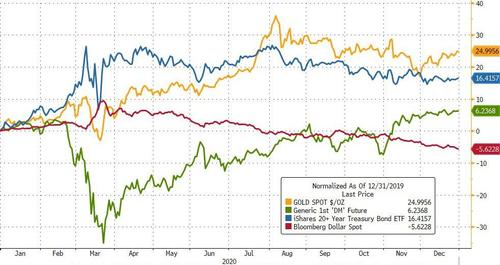 Source: Bloomberg
The US topped China for the year with Europe lagging behind…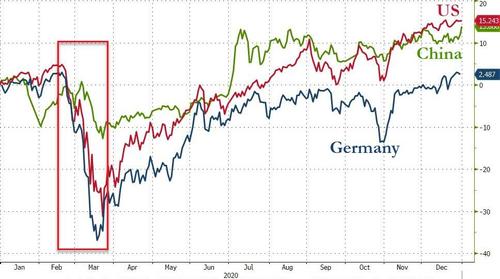 Source: Bloomberg
In Europe, only Germany's DAX managed a positive year with Spain's IBEX the biggest laggard…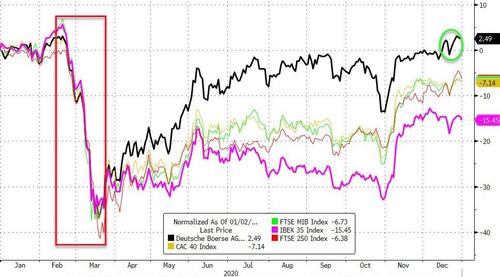 Source: Bloomberg
A huge surge in November and December sent Small Caps above most of their peers in the US (from being the worst), rising over 18% in 2020 (after a 24% gain in 2019). Only Nasdaq beat them with its insane 47% rise (after a 38% rise in 2019). The Dow lagged, rising just 6.5%… NOTE – there has only been 2 down years for the S&P in the last 11 years…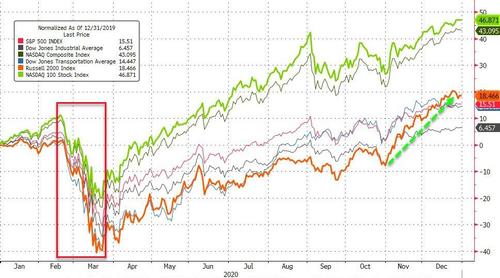 Source: Bloomberg
Notice the machines went wild in the last hour, desperate to get stocks to close the year at record highs…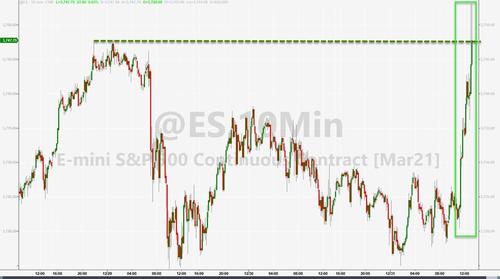 Tech stocks soared over 40% in 2020, after being down over 20% at the lows in March. Energy stocks suffered the biggest plunge, down over 35% in 2020 (with Financials and Utilities also in the red)…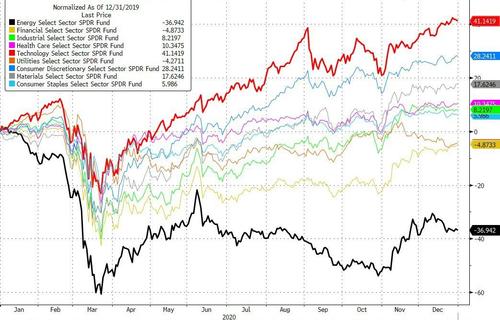 Source: Bloomberg
Momentum ended higher on the year, but since the vaccine headlines has been a big loser…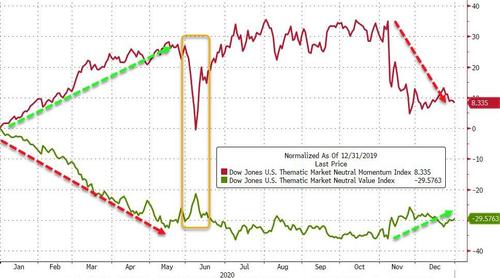 Source: Bloomberg
Growth massively outperformed value in 2020…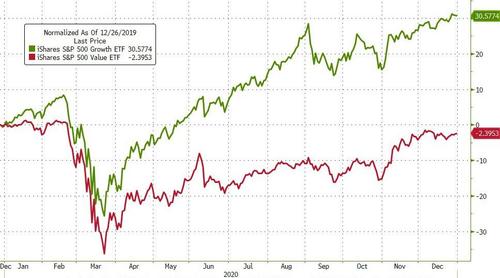 Source: Bloomberg
The USDollar's 6% drop in 2010 is the worst year since 2017 (but this misses the fact that the world's reserve currency has collapsed by 14% from its spike highs in March)…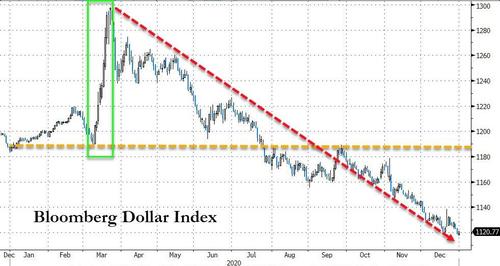 Source: Bloomberg
Which left the dollar right at  critical support from the 2018 lows…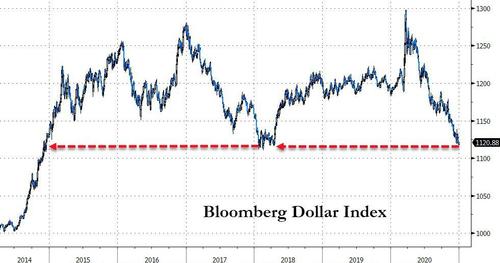 Source: Bloomberg
Dollar's collapse helped spark gold's best year since 2010 (and new record highs above $2000 in the year)…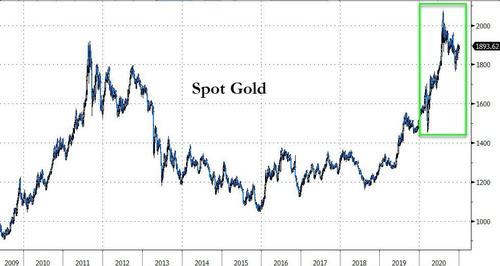 Source: Bloomberg
And Bitcoin screamed higher (up around 300% on the year – its best since 2017), but Ethereum was 2020's biggest winner, up over 470%… (and Ripple's recent collapse was among the biggest in crypto history)…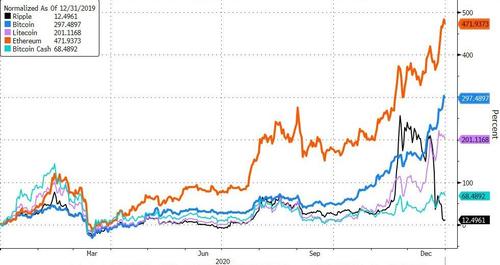 Source: Bloomberg
ETH remains well below its record high as Bitcoin soars well above its 2017 highs…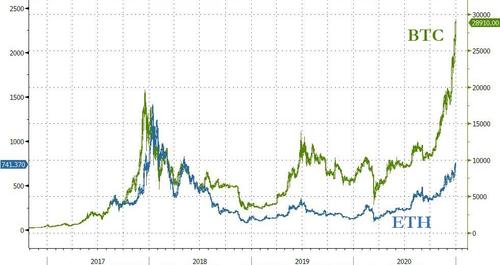 Source: Bloomberg
Of course, Cryptos surge this year is 'definitely' a bubble… but TSLA's 745% spike is 'fundamentally-backed'…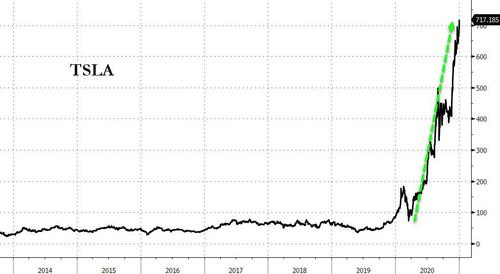 Source: Bloomberg
Which helped fuel the biggest short-squeeze in history…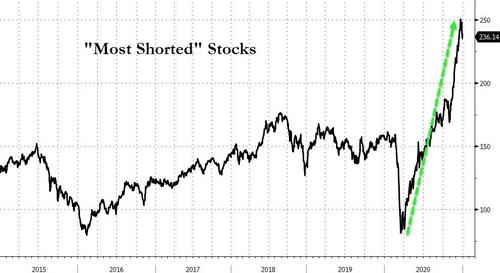 Source: Bloomberg
But we do note that "most shorted" stocks began to retrace notably in the last week…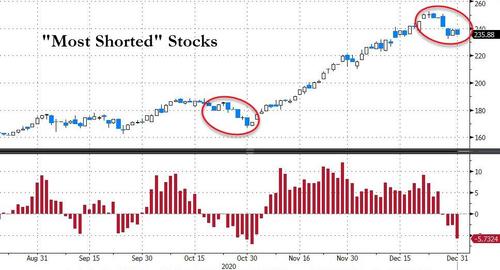 Source: Bloomberg
Before we move on from equity-land, we note that Tesla utterly dominated 2020, with 6.6 cents of every dollar traded on Wall Street going to the carmaker…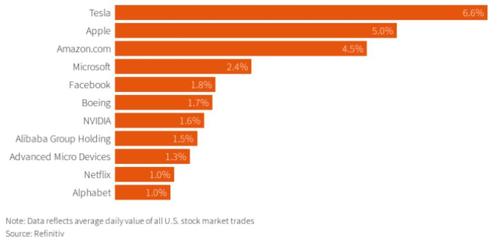 Treasury yields collapsed in 2020 and while the long-end did recover somewhat, it remains down 75bps on the year (the biggest yearly drop in yields since 2014)…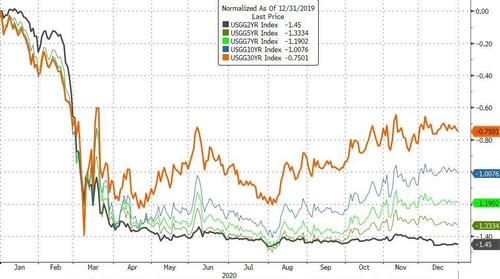 Source: Bloomberg
…as stocks soared higher!?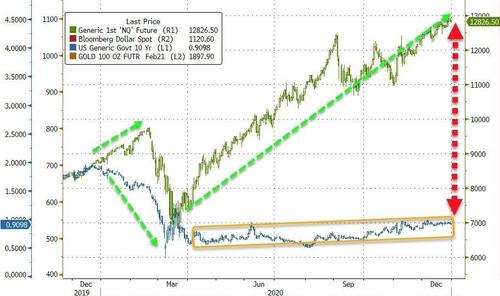 Source: Bloomberg
All yields hit record lows during the year but for us the two most notable prints of the year were 30Y below 100bps and 10Y below 50bps on March 9th…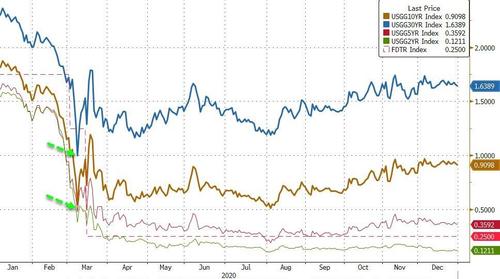 Source: Bloomberg
Real yields crashed to record lows in 2020, plunging from a small positive to -110bps (and signaling more gains for gold)…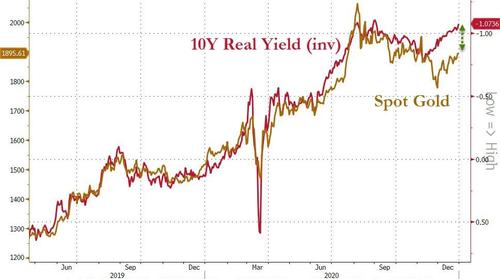 Source: Bloomberg
The collapse in yields leaves around $18 trillion of global negative yielding debt…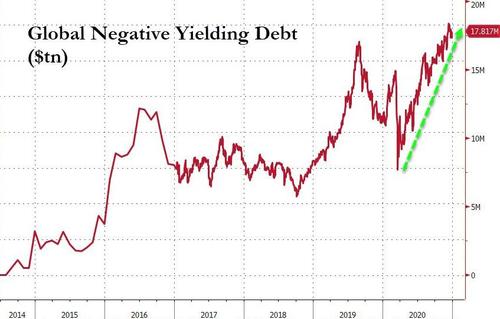 Source: Bloomberg
Silver also had its best year since 2010, rising almost 50% in 2020, while oil fell precipitously on the year, even with its recent hope-filled comeback…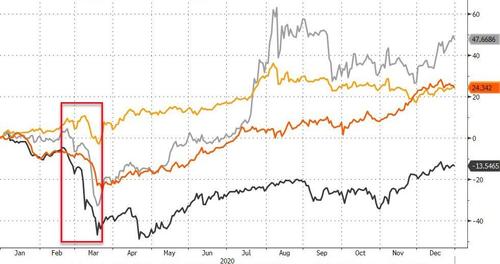 Source: Bloomberg
Oil made headlines numerous times this year but its biggest moment was when the front-month traded down to a stunning -$40.32!!!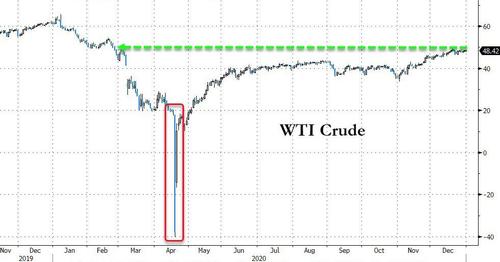 Source: Bloomberg
While gold hit new record highs, silver rallied more in 2020 but remains well below its 2011 highs…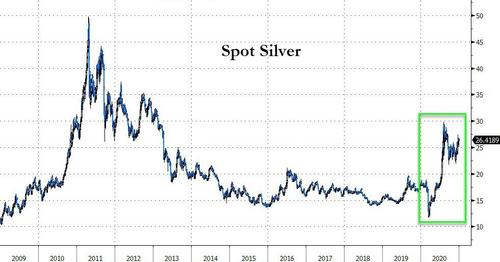 Source: Bloomberg
Finally, this must be a sign… Taylor Swift has turned bear-ish…
bye 2020, it's been weird. pic.twitter.com/vQoZVSamkB

— Taylor Swift (@taylorswift13) December 31, 2020
And who can blame her…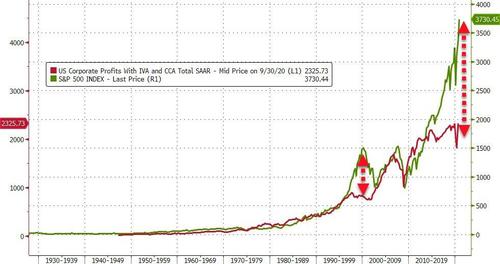 Source: Bloomberg
And it appears the worst is behind us, despite the constant fearmongering…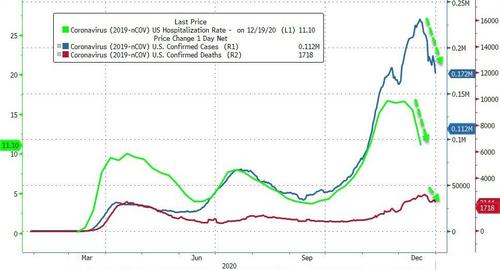 Source: Bloomberg