As DB's Jim Reid wrote overnight, with the current turmoil in US politics it's easy to miss the perennial political problems that are again resurfacing in Italy. PM Conte's government could collapse as soon as tonight now that PM Renzi (leader of Italia Viva party) has withdrawn his support even if he is only a tiny, junior partner in the coalition.
This current coalition has so far only lasted 16 months but in Reid's CoTD, he shows that this has been par for the course in Italy since 1861. Over this 160 year period Italy has had 131 governments. So each one has lasted an average of just under 15 months.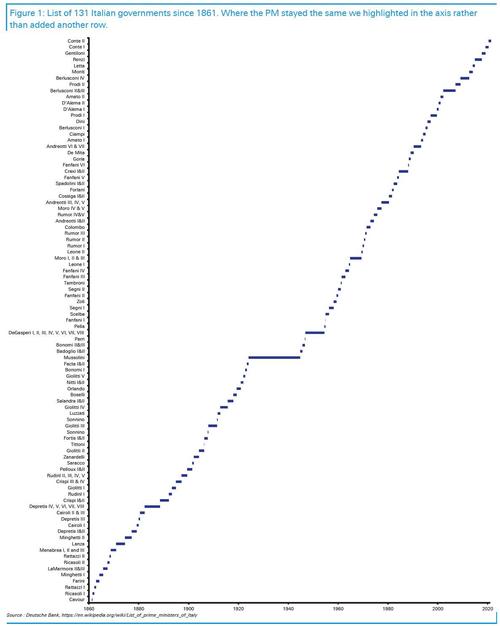 DB's Italian economist Clemente Delucia sees three possible scenarios: first, a sort of stasis outcome with only marginal changes in the government. This would probably be seen as broadly neutral by the market. Second, a deeper government reshuffle, possibly including a change of prime minister. At the margin, the market might see deeper change as positive if it heals internal divisions and injects new momentum into government policy. Third, snap elections. This would be a negative outcome in the eyes of the market. While not impossible, an early election is the least likely outcome and helps explain the calm market reaction to the tensions.
So when this government does collapse it is – for now – unlikely to cause any problems in financial markets but as Reid reminds us, "it's a reminder of how often the market has to face Italian political risk in a cycle."